Hi guys,
Yes today it's a special day. You already had a #FrenchCurves post this morning and now you get an extra Fatshion Faceoff!!
It's time again for a special Fatshion Faceoff! It's a 2weekly challenge that I do with 4 other fatshion bloggers from around the world. We choose a similar item of clothing and we all style it in our own way. I think you all know now what that's about if not, read about it here. This week's challenge is a special one. After a bit of lobbying of Hanna, the brand Lane Bryant offered us to sponsor one of our Fatshion Faceoff missions. We all received a beautiful Skater sweater dress.
So great because I actually love it when all have THE EXACT SAME ITEM to show you! Now we can really show the same dress on different bodytypes and every girl with her personal style.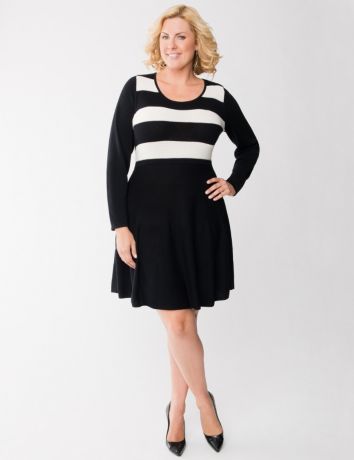 Bonjour à tous,
Oui aujourd'hui c'est un jour spécial. Vous aviez déjà droit à un post #FrenchCurves ce matin et maintenant je vous offre un spécial Fatshion Faceoff supplémentaire!
Il est à nouveau temps pour la mission Fatshion Faceoff! C'est un défi que je fais avec 4 blogueuses fatshion, venues du monde entier et cela tous les 2 semaines. Nous choisissons un vêtement similaire et nous le remixons à notre sauce. Le défi de cette semaine est un peu spécial. Grâce à Hanna, la marque Lane Bryant nous a offert de parrainer l'une de nos missions Fatshion Faceoff. Nous avons tous reçu une belle robe pull rayée. C'est super chouette, car j'adore quand nous avons toutes exactement le même article à vous montrer avec des morphologies différentes et nos styles personnels.
I really love this dress. The fabric is a bit heavier so perfect for the colder days. The sleeves were a bit too long for me but I turned them up and they stay in place so that's awesome too.
J'aime vraiment cette robe. Le tissu est un peu plus lourd donc parfait pour les jours froids. Les manches sont un peu trop long pour moi, je les ai enroulé et ils restent bien en place donc c'est génial.
Earrings/B.O. -- Festival
Biker Jacket -- Simply Be
Skater Sweater Dress -- Lane Bryant
Boots -- Lane Bryant
Purse/pochette -- New Look
Bracelet -- ?
I combined this gorgeous striped sweater dress with a white short sleeve biker jacket. This jacket and the white details (jewellery and bag) add an rock but feminine touch to this outfit.
J'ai combiné cette robe pull rayé magnifique avec un veste de motard blanc à manche courte. Cette veste et les détails blancs (bijoux et sac) ajoutent une touche féminine mais un peu rock à cette tenue.
And again wearing my Lane Bryant boots but they are my favorite of the moment :-).
Et à nouveau je porte mes bottes Lane Bryant mais elles sont mes préférées du moment 🙂.
I also love the zipper detail in the back of the dress.
J'aime beaucoup la fermeture éclair dans le dos.
So what's your verdict? You like the dress? Let's check out my fellow crew members and see how they wear the SAME Lane Bryant dress.
.
Alors, quel est votre verdict? Vous aimez la robe? Allons voir mes copines blogueuses et voyons comment elles portent cette robe Lane Bryant
.
Hanna – http://thewardrobechallenge.co.uk/
Dani – http://diyfatshion.blogspot.com/
Olivia – www.waituntilthesunset.com
Mhairi – http://www.lilybobombslovelylumps.com/
Thanks again Lane Bryant to make this mission possible.
Merci encore Lane Bryant de rendre cette mission possible.
The site – L'adresse Web:
See ya next wednesday/ A mercredi prochain!